Bangladesh Government has automatically registered all handsets connected to any authorized SIM on Jun 30 as part of a process to block all illegal and counterfeit phones. Since then, governments have given three months extra time to do it manually. After three months from July 1, 2021, the Bangladesh Telecommunication Regulatory Commission (BTRC) will take every unauthorized handset under further action.
How This Process Works
To registering all authorized and unauthorized handsets under BRTC, this process uses National Equipment Identity Registrar (NEIR) to check the users' National Identity Card (NID) number, the IMEI code of the device customers' trying to register, and the MSISDN number of the SIM card that is provided by the SIM customers' using on their device.
Legal Status Check Of Your Handset
Customers have to check their phone's legal status first before buying it and then preserve the receipt. For checking the legal status of a mobile, follow the instructions below:
Go to the messaging of your device.
Type "KYD<space>15 digit IMEI number".
Now, send it to 16002.
Example: KYD 353064837784386
A reply SMS will confirm that your handset is illegal or legal.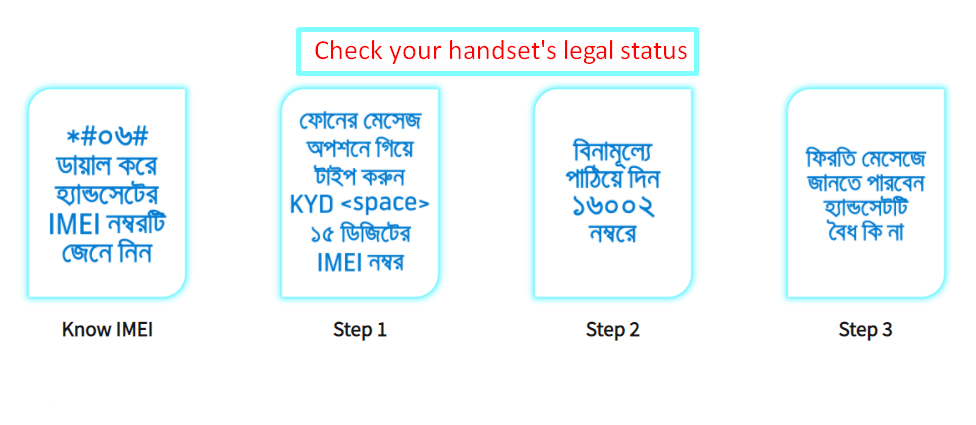 Or, you can check the legal status using some online tools, various websites, the official websites of smartphone providers. Go to google search, type checks IMEI, then follow any of the websites or tools. You will just have to type an IMEI number; they will show you that your smartphone is officially legal or not!
How To Check IMEI
For checking the legal status of your phone, you must know the IMEI of your phone. Here are the steps to check your device's IMEI.
Steps to follow:
Go to the message option of your handset.
Dial BTRC code *#06#.
In the return message, you will get the IMEI number of your handset.
Remember, a mobile International Mobile Equipment Identity (IMEI) number is 15 digits code that identifies the 3GPP and iDEN of mobile phones we use. Every phone has a different IMEI number. Many handsets could have two different IMEI numbers; don't worry! It's because they are using 2 SIMs in a single mobile handset.
How To Register Your Phone Using IMEI
Director-general of regulator BTRC's spectrum department Brig. Gen. Md. Shahidul Alam ( Phone: 01552202732, email: [email protected]) said that "The users won't need to do anything. There won't be a problem to use these (phones with no legal issues)."
But that doesn't mean that you can use an illegal phone forever. There will be no longer any unauthorized phone after the three months trial period of the hearing of July 01, 2021. So register your phone under BRTC soon. There are two different ways available for registering your handset.
Register Dialing USSD Of Your Mobile Operator
You can register your unauthorized handset dialing a USSD, *16161#. Here is the full process of handset registering under BRTC.
Got your dialler and dial *16161#.
Select the "Status Check" option.
Enter your IMEI number of the handset.
Select "Yes" after on the box with "Yes/No" options.
You are done! The status of the used mobile phone/handset of registering will be informed you through the return message by the mobile phone operator.
Register  Your Handset Using BRTC's Official Website
BRTC's official website has a system by which you can register your phone: Follow the instructions given below.
Mobile handset registration process purchased or gifted from abroad:
Visit this link: http://www.neir.btrc.gov.bd/.
Go to the Special Registration section of the portal and enter the IMEI number of the mobile handset.
Upload a photo/scanned copy of the required documents they asked for (e.g. passport visa/immigration information, purchase receipt, etc.) and press the Submit button.
If your purchased mobile phone is legal, it will be registered automatically. If the handset is illegal, the customer will be notified via SMS and will be connected to the network for a trial period under BRTC's control. If the trial period elapses, further action will be taken as per the decision of the government.
Note: Go to your nearest customer care center of your mobile operator to register your handset; they will help you if you can't do it yourself.
For full details of NEIR (citizen portal) visit here.
Support For Anything Related to NEIR
If you need to know anything related to NEIR, you have two ways: Dial BTRC's helpdesk number, 100 anytime, or dial mobile operators' customer care number, 121. Both BRTC and your handset provider will give you valid information related to NEIR registration.
Alert From BRTC
Be careful! There are two special alerts are given on the official website of BRTC, which are:
Before purchasing any mobile handset in the country, you must check the validity of the handset. An illegal handset will not be considered for special registration under any circumstances.
A person can bring a maximum of 2 duty-free mobile handsets from abroad and 7 more subjects to payment of duty according to the existing baggage rules. Only handsets carried in accordance with the Baggage Rules will be considered subject to special registration.
Still, if you have anything to ask, write a comment down. We are there to assist you. Thank you.