The Flexi plan is a very customize-able system of GP. Where you can buy Talk-time, SMS, and the internet. The unique thing about the Flexi plan is it is very customer friendly. You can select and buy packages on the basis of your wish. And you can also buy a bundle pack from the GP Flexi plan. Bundle pack means the mixture of Talk-time, minute, or internet package. You can do this very easily. Usually, most the people use Flexi plan from the mobile app. But you can also buy any packages from the Flexi plan web page. The system and function are quite the same. And today, we will show you the full process to buy any packages from the Flexi plan web.
GP Flexi Plan Web
Grameenphone Flexi plan has a web-page, and the web-page works like the app of Flexi plan. It is quite similar. I have already told you that. This is the Official GP Flexi Plan web where you can buy any Talk-time, minutes, and internet.
Look at these guys. This is what we are talking about. This is the Flexi plan web page version. I have given the link to this web page in the upper paragraph. You can check it in the upper paragraph and you can go to the webpage by clicking to the page. But do not do this right now. First, check the full process then go to their website.
How to Buy Any Pack From Flexi Plan
It is very easy to buy any pack from the GP Flexi plan. Let me show you the step by step process. I have shown some pictures below of the GP Flexi plan. Look how I have done all of these.
First, select the pack you need and the validity. You can select a combo. I mean you can select all of these, internet, talk-time, or SMS.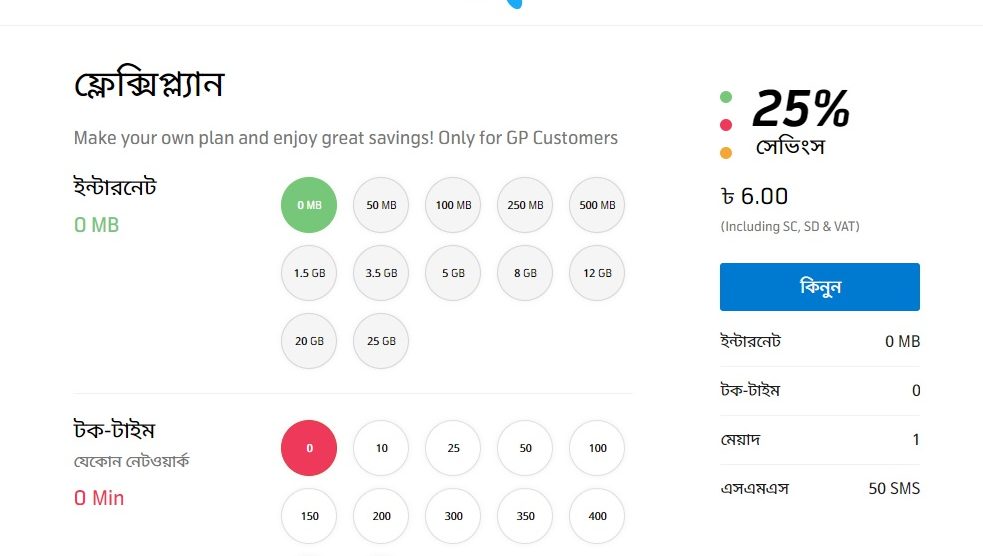 After selecting, please click on the buy now option.
After here. You have to give your GP sim number where you want that pack to be activated. You have 2 options. You can buy with Mobile balance or Bkash/Card or other payment systems.
I have selected the mobile balance option.
Now check your phone, they have sent you a PIN. You have to copy the PIN and put it here. After that. You are done. You have successfully bought a pack from the GP Flexi plan web.
The app also works in the same way actually. And if you still face problems to buy a pack from the GP Flexi plan. Please let us know. We are here to help you out.
Read more: