M2M stands for machine to machine communication. GP M2M (machine to machine) combines data packs, SIM cards, and secure connectivity options for your devices. Over warless network M2, M communication is an automatic or frequently an exchange of data among more devices. For more information, keep reading.
About GP M2M System
M2M means machine to machine to communication by which a company to any corporate agency lead and communicate with their officials. It is mainly for remote communication to lead the success at the climax. Enhancing customer experience, enabling faster decision-making, reducing costs, and improving asset utilization carries the company out at the top position and brings a reputation.
Our M2M Plans provide you with a suite of enablers to support your M2M solution: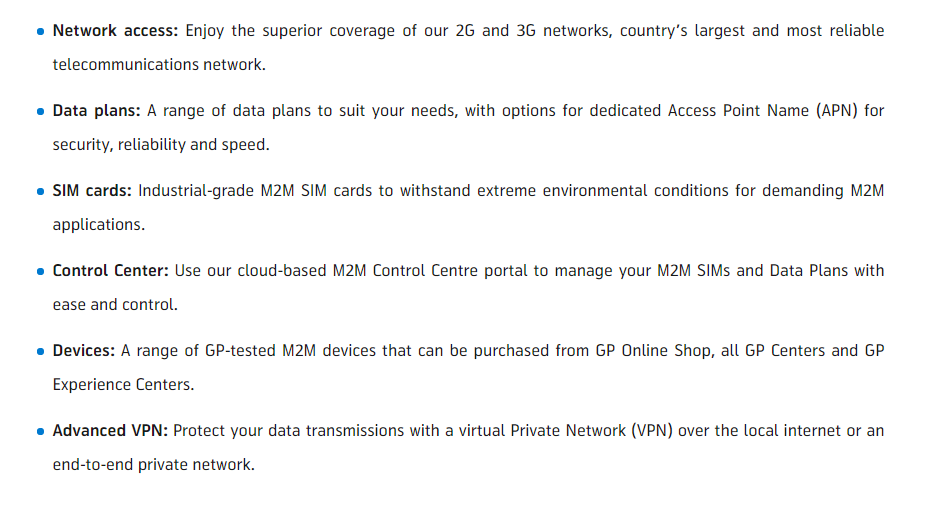 GP M2M Data Plan
GP offers two types of M2M plans. One is slandered, and another is advanced. The Standard M2M Plan comes with standard M2M connectivity options, while the Advanced M2M Plan comes with dedicated APN and VPN connectivity options. To get more information, read the below box carefully.
| | |
| --- | --- |
| STANDARD M2M | ADVANCED M2M |
| M2M Volume Packs | M2M Volume Packs |
| M2M Control Center | M2M Control Center |
| Shared APN | Dedicated APN |
| Fixed IP | Fixed IP |
| M2M SIM Cards | M2M SIM Cards |
| | VPN Connectivity* |
Under the above plane, Gp also provides a range of volume packs. Follow the next table that will help you to select your suitable plane for M2M data use.
| | | |
| --- | --- | --- |
| Usage type | standard m2m | advanced m2m |
| Low | 20/50/100 MB | 100 MB |
| Medium | 1/2 GB | 1 GB |
| High | 5/10 GB | 100 GB |
That's all about GP M2M data plan & detailed information that will help you so much, and you will be benefitted from the article most. If you want to get more information about the topic or any topic related to the mobile operator, then inform us. Stay with us for more updates.