Robi is one of the leading mobile operators that always try to make Robi users' life more comfortable and easy. This is why Robi has introduced the Chittagong Wasa bill payment service. If you are a Robi customer then this article will benefit you a lot. Here you will get all the information step by step. So to get all the information, stay with us, and keep reading patiently.
Chittagong Wasa Bill Payment Service Details
Robi Customers will now able to pay their Chittagong Wasa bill by Robi operator remaining sitting at home. You have not to stand in a long queue to pay the CWASA bill for hours. If you have no mobile phone, you will be able to pay your CWASA bill too. Just go to a "RobiCash Point" logo signed agent points and the operator will send the bill on behalf of you.
Benefits:
There are lots of benefits to pay the bill by Robi number. Some of them are available here.
You can pay your bills 24/7.
You haven't stand in line to pay your bill.
Around 800 "RobiCash Point" logo signed agents of Chittagong city corporation are currently providing the CWASA bill pay service.
Locations:
Enayet Bazar, Bagmoniram, Joynagar, Panchlaish, Baized bostami, Lalkhan Bazar, Rahmatgonj, Jamalkhan, Ghatforhadbeg, Dewan Bazar, Chandanpura, Chawk Bazar, Chktai/Chawk Bazar, Bandel, Patharghata, Korbanigonj, Feringee Bazar, Anderkilla, Boxirhat, Alkaran, Sadarghat, Madarbari, West madarbari, Patantooly, Dewan hat, Agrabad, Halishahar, Kabilladham, Pahartali, B.S.G., B.S.P., and Government.
BTRC Approved Service Fee to Pay Bills:
To pay the bill you have to for it and for much you have to pay is fixed to the authority. All the fee pay-related information is available in the below box.
| | |
| --- | --- |
| Paid Amount | Service Fee |
| 0- 400 | BDT 5 |
| 401 – 1500 | BDT 10 |
| 1501 – 5000 | BDT 15 |
| 5000+ | BDT 25 |
Three steps to pay the bill from customer mobile:
There are three steps to pay the bill from your mobile. All the steps are given below. Try to pay your bill following the steps.
Airtel customers can avail of this facility by dialing *400*1# instead of *787#
You will be able to pay their bill up to Tk.3,000/- (including service charge) from his own mobile.
Open RobiCash Wallet: Through Own Robi Number:
Do you want to open Robicash Wallet through Robi's own number? Don't worry. If you focus below you will find that all the steps to open RobiCash Wallet are available below through some images.
Open RobiCash Wallet: From RobiCash agent points:
How can you open RobiCash Wallet from RobiCash points? Here I have arranged all the information step by step in the following images. If you want to open RobiCash Wallet, these images will help you a lot.
CWASA Consumer Registration:
If you want to know register for CWASA then this article is for you. Here I have gathered detailed information about it. Look below and collect all the information that you need to register for CWASA.
The process to pay the bill:     Are you searching for information what is the process by which you can pay your bill easily? Well, I have already arranged here all the information sequentially. Just follow the stages and carry on with your work.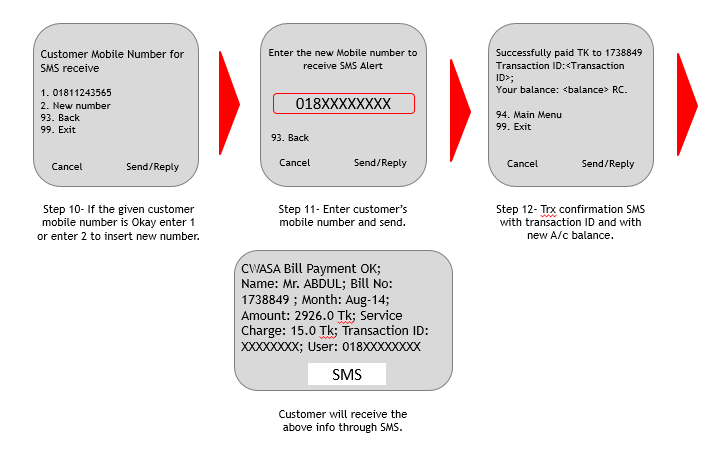 The process to Check the Bill:
Maybe you are worried to know how to check the bill. If yes, this article is for you. I have already given here detailed information about it.
Bill Payment Through App:
You can also pay your bill by the app. It is very helpful for you. To know how to pay bills through the app, focus on the following image.
Call 123 (from Robi number) or 01819 400 400 (from any number)
** Charge Applicable
Thanks for staying with us and read the whole article carefully. I think you are so much pleased to read the article. To get more information about any information related to the mobile operators, stay connected with us. Stay safe.